Nowadays the advancing capabilities of computer AI are indeed a hot topic. According to experts, AI is going to substitute very rapidly the vast majority of present jobs, thus making the intervention of humans superfluous.
This might very well be the case, but humans will still be needed for a long time, at least for some very advanced and specialized tasks.
At Vivivaldy, we believe that the winning formula is made up by the seamless fusion of state of the art technology AND highly skilled humans, who provide experience and out of the box thinking.
If you need to carry audio signals over a very long distance, with the utmost fidelity, little to no latency and at the highest available quality, you've come to the right place: our solution, particularly if integrated with the devices of our good partner DirectOut, is the only one which can allow you to reach your goals exploiting a simple Internet connection.
We can provide all you need in a flightcase, and all you need to do is plug it in, and connect it to whatever you need to manage (be it musical instruments, a mixer, a microphone, a recorder or else…). You can even use it to manage your devices remotely, and you do not need to check anything, as it comes complete with remote support: if something is not working properly, we're immediately prompted, so that we can fix it on the go.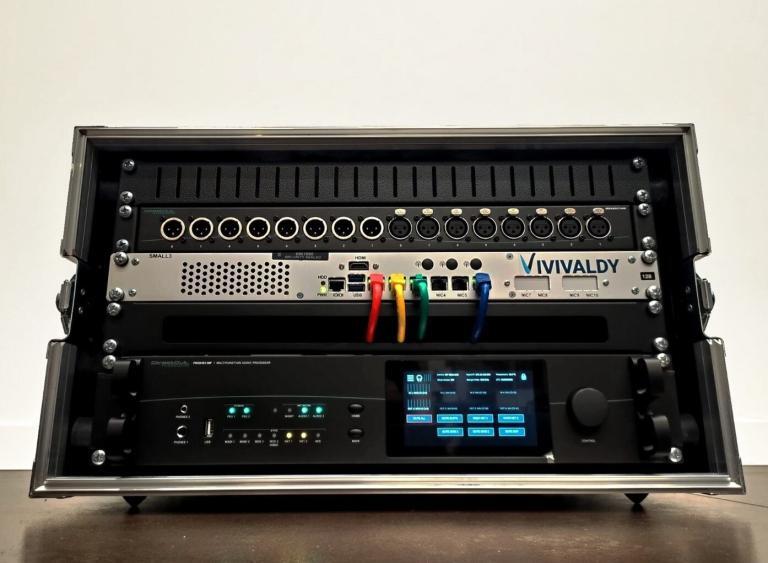 Just imagine the scenarios which can become true thanks to Vivivaldy: you can have musicians playing live in a New York theatre and broadcast them live anywhere in the world, simultaneously, and mix them locally, according to the peculiar tastes of regional audiences. Does the US like it loud? Do Europeans like it balanced? Asians like it all bass and trebles? You can do whatever you want, as every single location will get all the original channels in full quality.
But you can also produce a record having all the artists playing from home or wherever they like. You need to record some tracks at the same time, with the guitarist being in one place and the bassist and drummer being in another? It can be done easily thus sparing time and money.
The pandemic has shown us that these are very realistic scenarios, but, since they increase efficiency and save bucks big time, there's no reason not to exploit this opportunity even once the pandemic has ended.
Not to mention what we can do for those who set up professional conferences, or webinars: we can help them get their contents everywhere without having to rely on unaffordable CDN connections and with a level of quality and a synchronicity which was so far unattainable (unless you were a TV Network).
And the best part is that every customer gets a solution perfectly tailored to their needs: no Vivivaldy is the same as another. This is so, right because we have top human skills along with state of the art hardware. We configure each device only after having being briefed by the customers about their specific needs.
If you want to know more about Vivivaldy, don't hesitate to get in touch: just fill in the form you'll find at https://www.vivivaldy.com/contacts/ and we'll get back to you in the nick of time.