Around mid-October, the LEaT (which stands for "Live, Entertainment and Technology") exhibition was held in Hamburg. Aiming at becoming the point of reference for professionals offering technologies and services for the event sector, LEaT considers itself a platform "from the industry for the industry".
An important part of this platform is, of course, the possibility of "Sharing Knowledge" as the motto of the exhibition proudly states, before soundly adding "Shaping the Future", to underline how letting (good) ideas circle can virtuously promote the activities of an entire industrial segment.
At LEaT this sharing takes the form both of a dedicated Academy and an Exchange (LEaT Con X), where "first-class keynotes and panels" are held.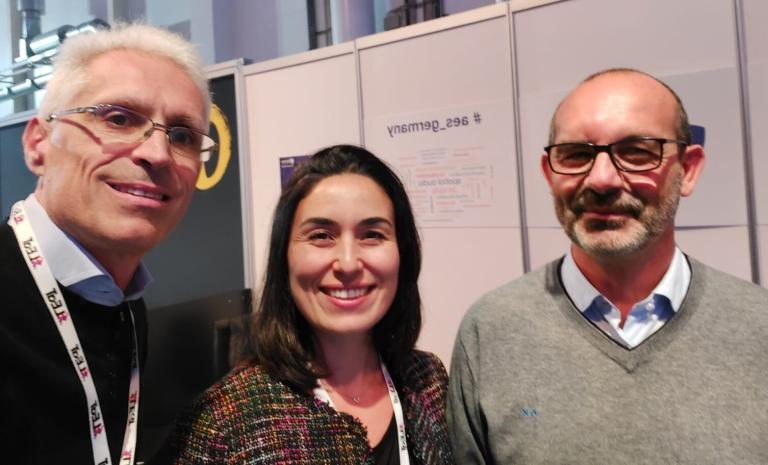 Thanks to a kind invite by Banu Sahin, president of AES (Audio Engineering Society) Germany, this year Luca Di Chio, CEO of Vivivaldy, the leading technology for multicasting, multi-channel transporting glitchless high-quality audio over the Internet, had the occasion to join in one of these panels which went by the significant title of "How can immersive streaming help live events?", to present the company's solutions dedicated to audio professionals.
Some of the other speakers had already tested Vivivaldy technology, which greatly helped in simplifying their broadcasting and streaming tasks.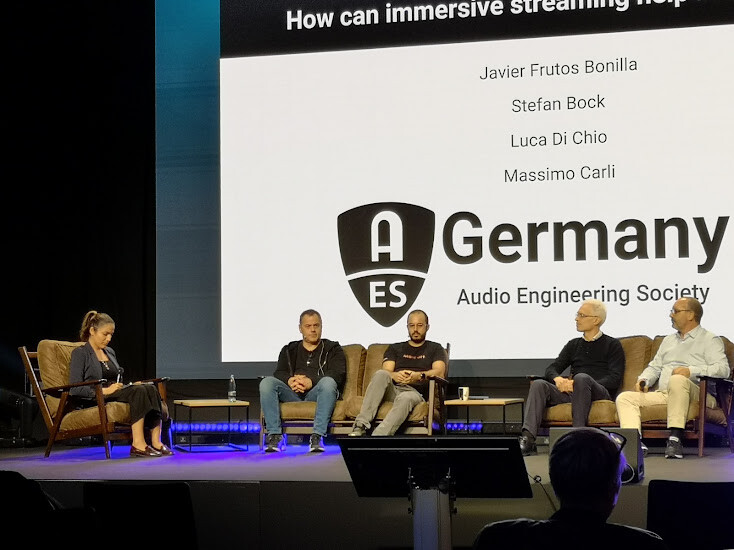 Carli related how he has distributed opera concerts and other audio through a fiber public network in Northern Italy, which is used also by other public structures (hospitals and schools), and the advantages he could benefit from (high speed, dedicated connection, no need to change many configurations)  and the challenges he had to face (for instance: said network is not distributed everywhere and operating tests can be run just when other users don't need the band for their primary needs), which could be easily overcome by applying Vivivaldy streaming services (which can run anywhere in the world, connecting any two or more points, over any simple Internet broadband connection, at whatever time of the day needed, no matter the time zone of the points).
Mr. Frutos-Bonilla talked about object based audio technology, which allows moving spatially any transmitted audio channel. For instance, one can push some instruments in an orchestra to the background, or to the front, in real-time, just like you were a sort of omnipotent conductor. Acting on a series of different parameters, you can also emulate the acoustics of specific venues, so you can hear and feel how the same execution, by the exactly same orchestra, would sound inside different theatres. Mr. Frutos-Bonilla explained how object based audio would greatly benefit from the features of Vivivaldy and particularly from its deterministic latency, which always stays the same on a given connection and, on continental and regional distances is particularly low. The fact that Vivivaldy can tunnel high-quality multi-channel audio without any quality loss is necessary for any professional audio application.
These same characteristics were important also to Mr. Bock, who runs one of the most important German mixing and mastering studios for immersive audio (Berlin Philharmonic and the Deutsche Grammophon are among his customers) and gets more and more requests for remote distribution and remote synching of his audio productions.
In the end, all the contributors to the panel agreed on one point: nowadays the expression "audio streaming" has evolved together with the needs of the market, which now include high-fidelity to the source, low latency, speed, remote control, multi-standard compatibility, multi-channel and multi-point transmission even over very long distances, all aspects in which Vivivaldy truly shines.
Do you have the same needs for your audio productions? Then don't hesitate to reach us at: https://www.vivivaldy.com/contacts and request us more info or arrange for a live demo.